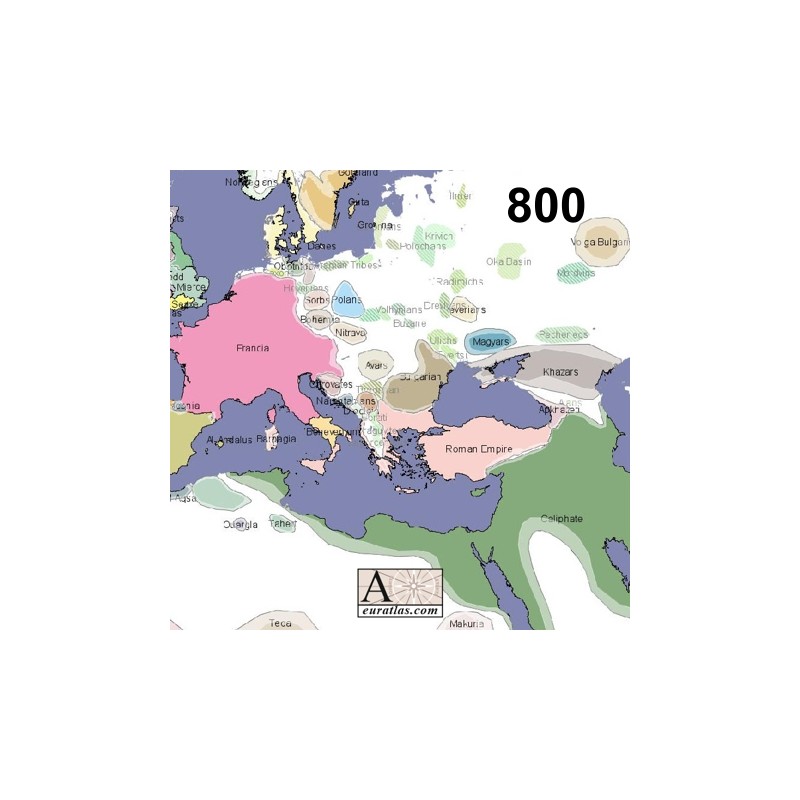  
Georeferenced Historical Vector Data
Historical geographic information system of Europe for each centennial year from 1 to 2000
Security policy
(edit with the Customer Reassurance module)
Delivery policy
(edit with the Customer Reassurance module)
Return policy
(edit with the Customer Reassurance module)
Description
The maps used for the Euratlas Historical Atlas of Europe cover the Earth's surface from the degree 15 west to 50 east, and from degree 20 north to 60 north. They describe the political situation of this area at the first day of each centennial year C.E. from year 1 to 2000.
These maps have been improved and redrawn in 2008 and are available as shapefiles data which can be analyzed and organized spatially with a GIS software. Choose the centennial year you need between 1 and 2000.
Requirements
Platform independent data, shapefile format.
Geographic Information System (GIS) software required, for instance Open Jump, Map Window or Arc GIS.
Main Features
Each century consists of several layers provided in Latin-1 (ISO-8859-1) and in Unicode Transformation Format 8 (UTF-8):
1) Autonomous peoples: populations with no well-defined authority.
2) Cities: with name and size information for the current century.
3) Dioceses: eyalets or regions, second-level administrative divisions composed of multiple provinces.
4) Sovereign_countries: all independent states or sovereign entities, dependencies (=holder countries) being included in their territory.
5) Holder_countries: all entities, dependent or not, dependent territories not being included in the sovereign territories.
6) Provinces: second-level administrative divisions,  in this system, the provinces are the smallest units of administrative division in a country, all other political shapes are generated from this one.
Moreover the following physical layers, without names, are provided:
big_rivers = main european rivers,  fuzzy_borders = polygons representing the uncertainty of some countries boundaries,  rivers = main european rivers useful for historical cartography,  seas = seas and main lakes.
The mountains are common for all the centuries and are provided as 5 contour lines layers: mountains_200,  mountains_500,  mountains_1000,  mountains_2000,  mountains_3500.
In addition several Styled Layer Descriptors (SLD) are included for:  big_rivers, countries, dioceses, provinces, seas, small_rivers, mountains_200, mountains_500, mountains_1000, mountains_2000 and Mountains_3500.
A technical Layer Description document is included in each data pack.
No customer reviews for the moment.
Customers who bought this product also bought:
4 other products in the same category: