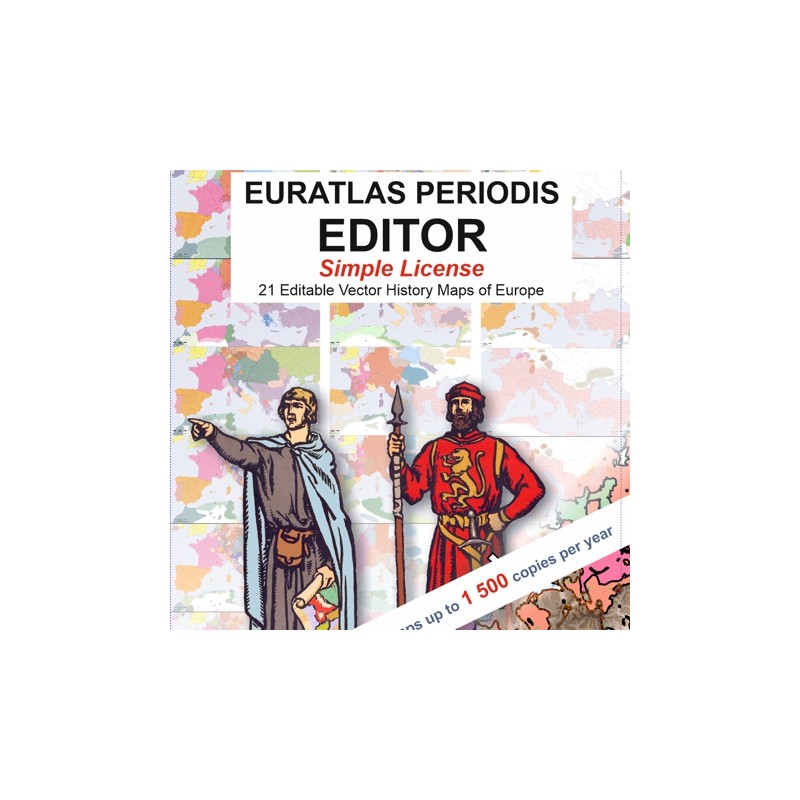  
Euratlas Periodis Editor
Edit and publish each of the 21 Euratlas Periodis historical maps
Security policy
(edit with the Customer Reassurance module)
Delivery policy
(edit with the Customer Reassurance module)
Return policy
(edit with the Customer Reassurance module)
Description
Euratlas Periodis Editor Simple License is a set of vector historical maps in Corel Draw 13 (CDR) format, which comes along with the program Euratlas Periodis Expert Single License English version.
The End-User shall use the Data for press advertising, brochure, poster, corporate identity, infography, any paper edition or publication, postcards, calendars, tee-shirts up to 1 500 copies or for websites with less than 500 000 visitors per month. Any printed map must mention the credit line '© 2013 Euratlas-Nüssli, www.euratlas.org'.
Requirements
Platform independent data, vector format. Corel Draw 13 or higher or compatible program required. Euratlas Periodis Expert runs only on Windows.
Main Features
Each base map is made of 16 layers which order, names, fonts and colors can be changed by the user. Here below is the layers's list.
1), 2), 3), 4) & 5) Contour lines for 200, 500, 1000, 2000 and 3500 meters.
6) Mute shapes of the 2nd level administrative divisions (provinces, counties etc.) and dependent states.
7) Mute full shapes of the sovereign countries.
8) Mute shapes of the 1st level administrative divisions (dioceses, regions etc.) if applicable.
9) Approximate areas occupied by unorganized peoples, if applicable.
10) Undefined borders areas, if applicable.
11) Seas and large lakes.
12) Main water courses and 13) Large rivers.
14) Dots marking the positions of the cities of grade 4 & 5.
15) Names (endonyms) of the cities of grade 4 & 5.
16) Latitudes and longitudes grid every 5 degrees.
Review
So I was able to change the colors of the themes and to add roads and battle places on my general map of the Byzantine Empire.
J. Rivelli
No customer reviews for the moment.
3 other products in the same category: