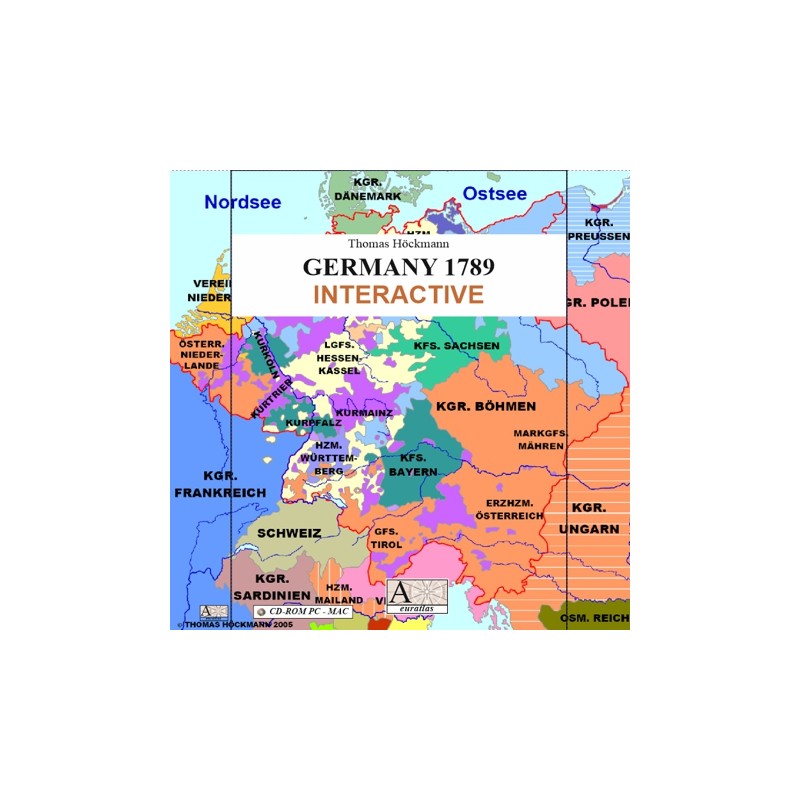  
The Germany 1789 Interactive Atlas
Maps giving access to an expanding knowledge base
Security policy
(edit with the Customer Reassurance module)
Delivery policy
(edit with the Customer Reassurance module)
Return policy
(edit with the Customer Reassurance module)
Description
40 maps of Germany at the end of the 18th century with direct links to the relevant information about the territories in the online encyclopedia Wikipedia.
Requirements
Platform independent.
Adobe Acrobat Reader required.
Main Features
- 40 high-resolution maps featuring the Holy Roman Empire of the German Nation in 1789.
- Direct click access to the chosen detailed map.
- Each map has active rims which allow direct access to adjoining maps.
- On each page, small red arrows allow easy navigation through the atlas.
- Each map is presented on an A3 format page, i.e. 279.4 mm x 209.5 mm.
Review
Finally, an easy way to find all these small German principalities, counties, duchies and lordships.  
Mary D.
No customer reviews for the moment.
Customers who bought this product also bought:
8 other products in the same category: