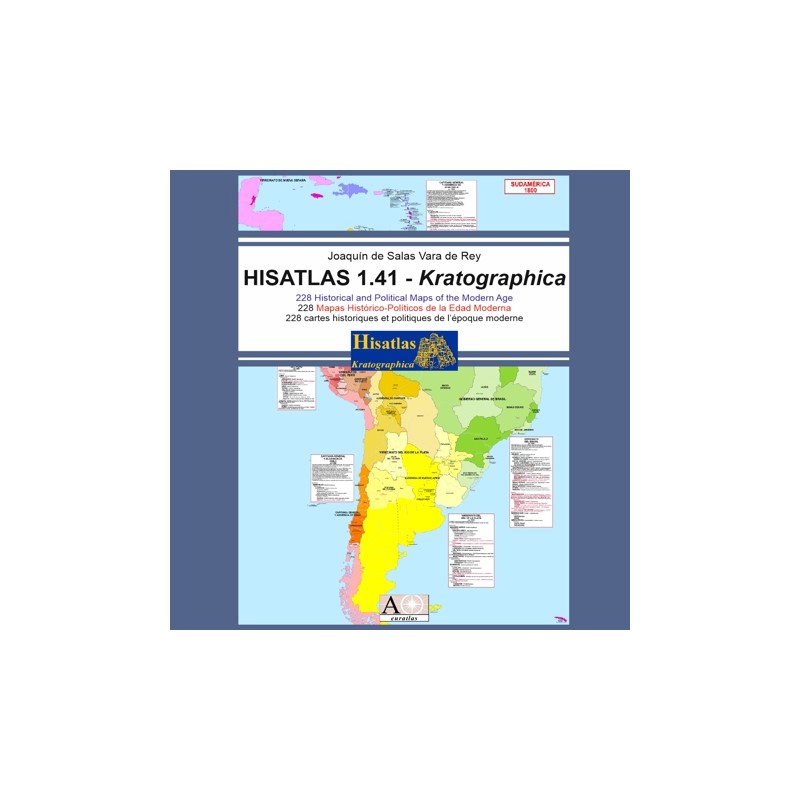  
HISATLAS 1.41 - Kratographica, World Historical and Political Maps
Mapping a history of the constituent authorities
Security policy
(edit with the Customer Reassurance module)
Delivery policy
(edit with the Customer Reassurance module)
Return policy
(edit with the Customer Reassurance module)
Description
A selection of world political and historical maps from 1789, and occasionally from earlier dates, to the present day organized by region and dates.
Most of the maps are in Spanish.
Requirements
Platform independent. Web browser, like Firefox, and file archiver, like Winzip, required. Some maps need Adobe Reader. Internet connection not necessary.
You simply need to unzip (uncompress) this file in a new directory and to click on the file called 'start' or 'start.html'. This will open a HTML page from which you will be able to navigate through the maps.
Main Features
- A world historical atlas covering the 5 continents.
- 228 detailed historical maps from 1789 to the present.
- The maps are organized in 18 different sections.
- Each map is offered in JPG reduced size and in GIF full size, some maps are in PDF format.
- All maps are shown on html pages.
- Easy navigation through the 18 map sections.
- Introduction and explanation text in English, Spanish and French
- Most map legends are in Spanish, some maps in English.
Review
I didn't knew what is or what was Gwalior but a fast overview of the Hisatlas pages brought me to the India section and I got a great map of central Indian provinces with Gwalior, Bhopal and all these statoids.  
Jeff Moro
No customer reviews for the moment.
Customers who bought this product also bought:
8 other products in the same category: