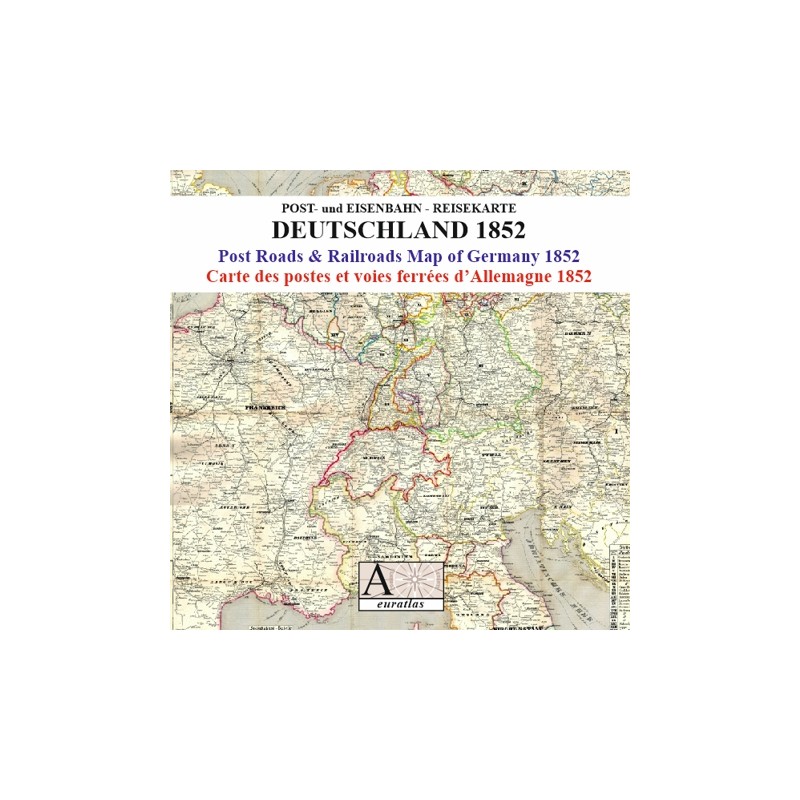  
Post- und Eisenbahn-Reisekarte Deutschland 1852
Deutschland 1852: a key document in the study of tourism
Security policy
(edit with the Customer Reassurance module)
Delivery policy
(edit with the Customer Reassurance module)
Return policy
(edit with the Customer Reassurance module)
Description
A digital copy of an ancient map of the German lands and the neighbouring countries showing all the post-roads and railroads in 1852.
The legend inserts are giving detailed information about the timetables, the population of the German States, the currencies rates and the European spas. A key document in the study of tourism.
Requirements
Platform independent data, .jpg format.
An image editing software is necessary, like Picasa, GIMP, Photoshop etc.
Main Features
- 1 high-resolution map of 7441 x 8760 pixels x 300 dpi in .jpg format.
- 1 low-resolution map of 2381 x 2803 pixels x 96 dpi in .jpg format.
- 1 table of the 19th century European spas.
- 2 tables of the 19th century gold and silver currencies.
- 1 table of main European exchange rates in 1852.
- Real size of the main original map: 63 cm x 74 cm.
No customer reviews for the moment.
16 other products in the same category: