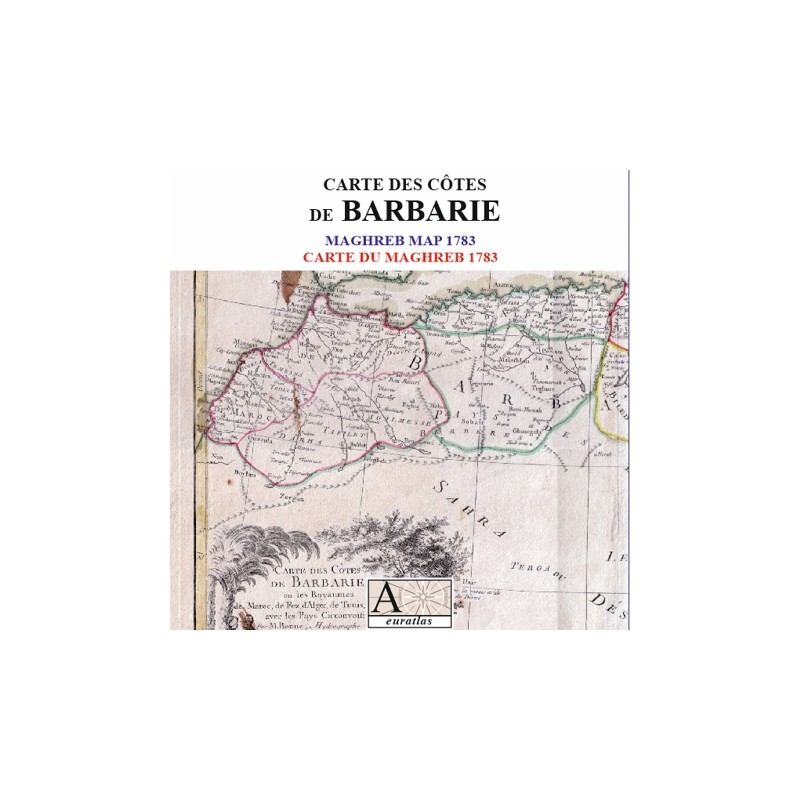  
Royaumes de Maroc, Fez, Alger, Tunis... 1783
Morocco, Fes, Algiers, Tunis, Tripoli and neighbouring lands
Security policy
(edit with the Customer Reassurance module)
Delivery policy
(edit with the Customer Reassurance module)
Return policy
(edit with the Customer Reassurance module)
Description
A digitized map from an original engraving by Rigobert Bonne: Coasts of Barbary.
The Europeans used this name, derived from 'Berber' to name the Maghreb countries until the 19th century.
Requirements
Platform independent data, .jpg format.
An image editing software is necessary, like Picasa, GIMP, Photoshop etc.
Main Features
- 2 scanned maps of the Maghreb countries in .jpg format.
- Size of the hi-resolution map: 5591 x 3925 pixels x 300 dpi.
- Size of the low-resolution map: 1789 x 1256 pixels x 96 dpi.
- Real size, same as the original: 47 cm x 33 cm.
- The End-User is entitled to print the document but the numerical carrier, that is the binary files, belongs exclusively to Euratlas-Nüssli.
- Therefore, no commercial use of the binary files is allowed unless an agreement with Euratlas-Nüssli is made.
No customer reviews for the moment.
16 other products in the same category: